History
Purpose and Aims
Purpose:
For pupils to gain a coherent knowledge and understanding of Britain's past and that of the wider world. It should inspire pupils' curiosity to know more about the past. Teaching should equip pupils to ask perceptive questions, think critically, weigh evidence, sift arguments, and develop perspective and judgement. History helps pupils to understand the complexity of people's lives, the process of change, the diversity of societies and relationships between different groups, as well as their own identity and the challenges of their time.
Aims:
To investigate and interpret the past
To build an overview of world history
To understand chronology
To communicate using the language of an historian
Provision
Our curriculum is categorised in 2 ways
Breadth - which gives pupils experiences of a range of historical figures and periods
Depth - which helps pupils to think and act like historians
Whilst coverage is our goal for the "breadth" element, repetition and increasing the understanding is our goal for the "depth" element.
Our curriculum drivers shape our approach to teaching history so that every opportunity is taken to relate history to the needs of our pupils. History is studied throughout each academic year and across each key stage so that pupils can gain a growing developmental understanding of the matters, skills and processes in our curriculum. Coherent contexts for learning engage ad involve pupil.
Progression and Assessment
Our progression has 4 key objectives which mirror the four aims of the subject. We set out our expectations around Chris Quigley Essentials "mile stones" approach. Each milestone has a set of indicators that re repeated throughout 3 cognitive domains: Basic (We call it Paddling), Advancing (we call in snorkelling) and Deep (we call it diving). It is expected that the vast majority of pupils will have an advancing understanding by the end of the milestone and some will have a deep understanding.
Assessment and reporting
We will assess the pupil's depth of understanding each term and use this to forecast as to whether pupils are on track to meet our curriculum expectations for the end of the milestone.
Monitoring, Evaluation and Improvement
The role of the leader in monitoring pupil's outcomes is to audit teacher's judgements. This is done collectively in staff meetings and then collated by the leader. The leader then works collectively with the teachers to examine the strengths of the provision along with the areas for development for the provision. The leaders then create an action plan to improve achievement. The leader keeps track of the improvements they have secured over time to understand how effect the provision is.
Happening History Castle Workshop, Year 1 Elmer Class
London Bridge is Falling Down, October 2018, Year 1 Elmer Class
When we were at the fire station, the fire brigade set alight to our houses and we watched them burn to the ground. Then they let us put the fire out with the giant hose!
While we were there we got to do a few other things; we played team games to aim the hose – our teachers were very close to being sprayed! We also tried to lift the dummy people out of the pretend fire. As well as that we went into the practice room to use the special cameras that can help to see through the smoke!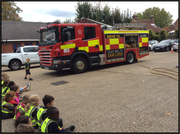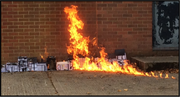 History on a Page, October 2018, Year 4 Austen Class
We have had a tremendous week this week at school.
On Tuesday Year 4 had a 'History on a Page' workshop in school which was hugely creative and educational. We made candles, leather pouches, baked and learnt to weave. We enjoyed our banquet in the afternoon. Thank you to parents for sending the children in such amazing costumes, it really helped to create a medieval atmosphere.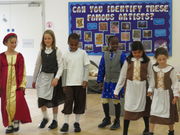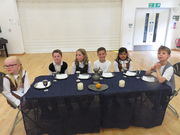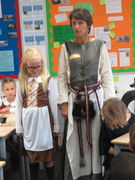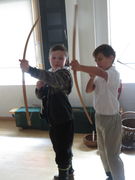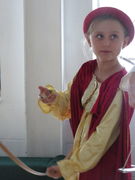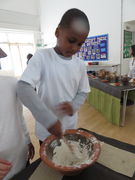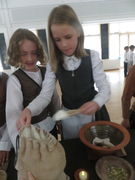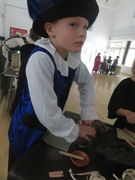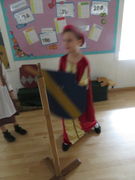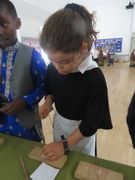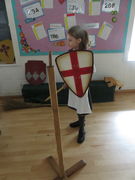 History of Children's Home, October 2018, Year 6
Year 6 went on a wonderful trip to the Oval on Wednesday to find out about the history of the children's home that was established there in the early 20th century. As historians they used artefacts and archives to learn more about the lives of children in the past. The volunteers who led the tour commented verbally and in writing on how beautifully behaved the children were and how curious and engaged with the discussions and activities. I was particularly impressed with their empathy when imagining what it would have felt like for children arriving from inner city London to the Oval.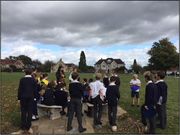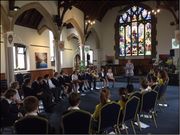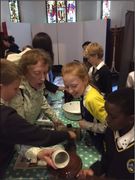 Natural History Museum, Year 6
On Tuesday, 24 April 2018, Year 6 spent the day deepening their knowledge and understanding of evolution at the Natural History Museum. They explored what has evolved over the past few hundred million years, how it has evolved and why by participating in a range of fun activities and games. The children were so excited to see Mary Anning's fossils up close, not to mention a series of skulls showing how humans evolved over the past five million years to carry larger brains! A huge thank you to Molly's mum, Micah's mum and Ellie and Sav's dad for coming on our trip with us.