PSHCE
Purpose and Aims
Purpose:
PSHE education is a planned, developmental programme of learning through which children and young people acquire the knowledge, understanding and skills they need to manage their lives now and in the future. As part of a whole-school approach, PSHE education develops the qualities and attributes pupils need to thrive as individuals, family members and members of society. PSHE education equips pupils to live healthy, safe, productive, capable, responsible and balanced lives. It encourages them to be enterprising and supports them in making effective transitions, positive learning and career choices and in achieving economic wellbeing. A critical component of PSHE education is providing opportunities for children and young people to reflect on and clarify their own values and attitudes and explore the complex and sometimes conflicting range of values and attitudes they encounter now and in the future. Developing an understanding of themselves, empathy and the ability to work with others will help pupils to form and maintain good relationships, develop the essential skills for future employability and better enjoy and manage their lives.
Aims:
To build confidence, resilience and self-esteem
To identify and manage risk
To make informed choices and understand what influences their decisions
To recognise, accept and shape their identities
To understand and accommodate difference and change
To manage emotions and to communicate constructively in a variety of settings.
Provision
Our curriculum is categorised in 2 ways
Breadth - which gives pupils experiences across the PSHE and SRE curriculum
Depth - which helps pupils to think and act like young citizens
Whilst coverage is our goal for the "breadth" element, repetition and increasing the understanding via mastery learning is our goal for the "depth" element.
Our curriculum drivers shape our approach to teaching PSHE so that every opportunity is taken to relate PSHE to the needs of our pupils. PSHE is studied weekly in both Key Stages, either through PSHE sessions, values sessions or News and Views sessions. Cross curricular links and Learning Outside the Classroom are incorporated where possible and meaningful.
Progression and Assessment
Our progression includes 12 units which are visited once in KS1 and twice in KS2 at a more challenging level at each stage. We set out our expectations around the Harpenden Academy PSHE scheme (adapted from the Ealing scheme). We use the Chris Quigley three cognitive domains to ensure each child receives the right support and challenge: Basic (We call it Paddling), Advancing (we call it Snorkelling) and Deep (we call it Diving). It is expected that the vast majority of pupils will have an Advancing understanding by the end of each milestone (KS1, Lower KS2 and Upper KS2) and some will have a Deep understanding.
Assessment and reporting
We will assess the pupil's depth of understanding each year using the PSHE scheme assessment guidance.
Monitoring, Evaluation and Improvement
The role of the leader in monitoring pupil's outcomes is to audit teachers' judgements via book looks as well as ensuring breadth and depth of curriculum through book looks, learning walks and learning talks (with pupils). Strengths and areas for development are identified and actions shared with staff then reviewed to assess impact. Book looks are done collectively in staff meetings and then collated by the leader. The subject leader action plan and monitoring evidence is kept in the monitoring file and evidence is gathered and celebrated in the PSHE and SMSC portfolios.
Harpenden Academy Elves Wrap over 200 presents for Charity, December 2018
On Saturday our very own Harpenden Academy elves wrapped almost 200 gifts, generously donated by HA families to make Christmas day full of joy and hope for children who are currently living in care. Last year our gifts were extremely well received and this year we've over doubled the number being gifted.
The children (and parents) worked tirelessly all morning to wrap and label all the gifts, also creating beautiful cards to send to each child. Thank you all for your time, generosity and energy.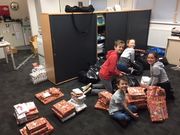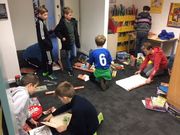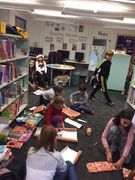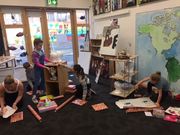 c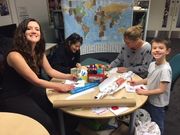 Action for Happiness, 7th December 2018
This week all classes (and hopefully teachers and other staff) have been taking part in the Action for Happiness Kindness calendar - with a new kindness challenge every day as part of Do Good December!
It has been wonderful to see the children embracing this concept so openheartedly and we hope some of the actions have been brought home. In Year 6 we had so many secret positivity notes delivered to our classroom on Thursday that we had to set up books to stick them all in! The calendar fits with our value of the month - Hope - as showing kindness is a way of spreading hope. Please feel free to complete Saturday and Sunday's challenges at home: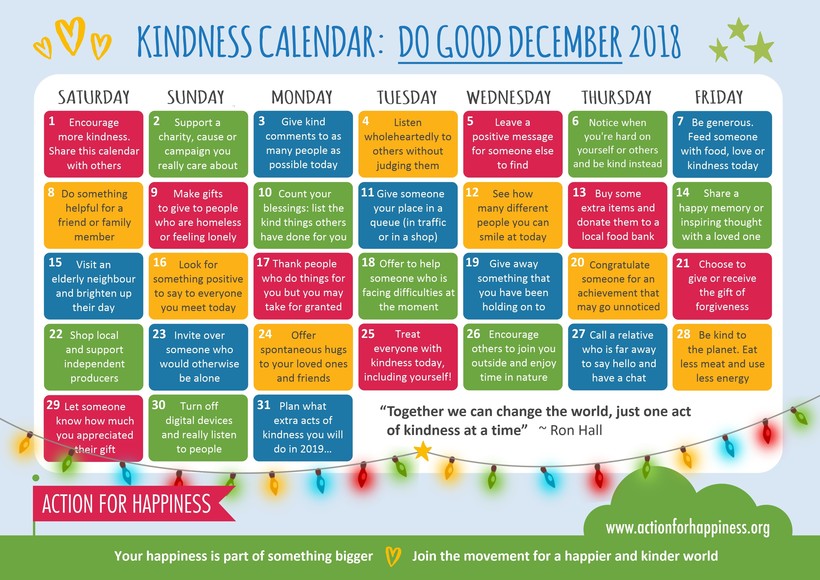 Class Baking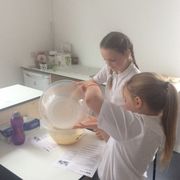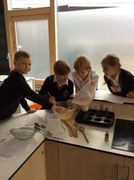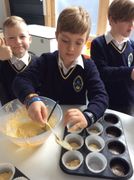 Feeling Good Fortnight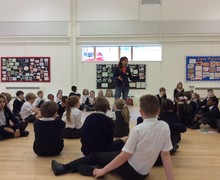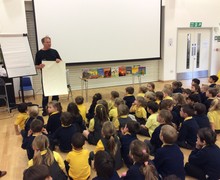 Paul Geraghty
Paul Geraghty, amazed the children with his storytelling and illustrations. His illustrations will be displayed in school once we have frames for them.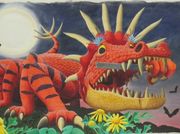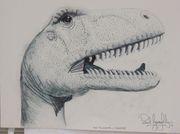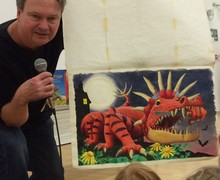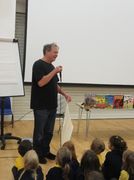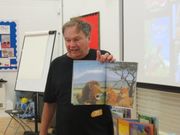 George Fouche Motivational Speaker
Who told us about his life and the positive impact a growth mindset had had on his challenging life so far.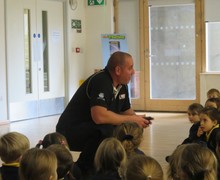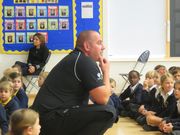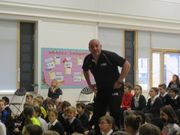 Forest School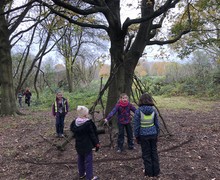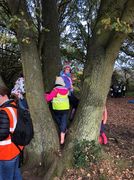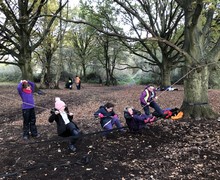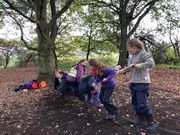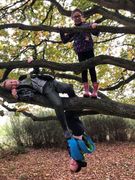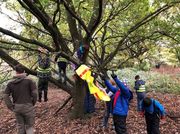 Cowboy Day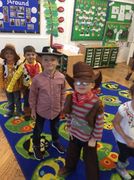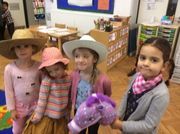 Mindfulness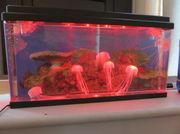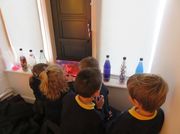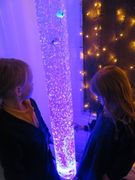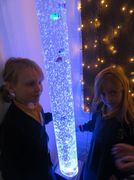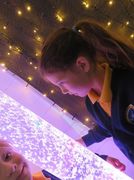 Making pizzas with our ABM Caterers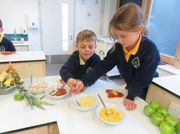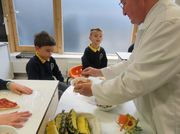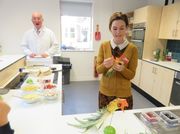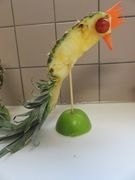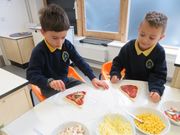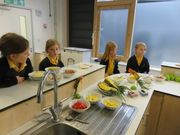 Waste Ninja
We learnt how to not waster food.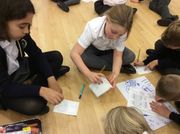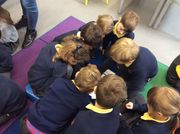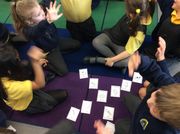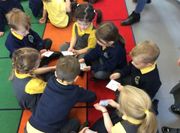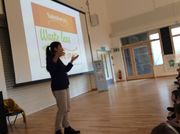 Learning Playground Games in Family Groups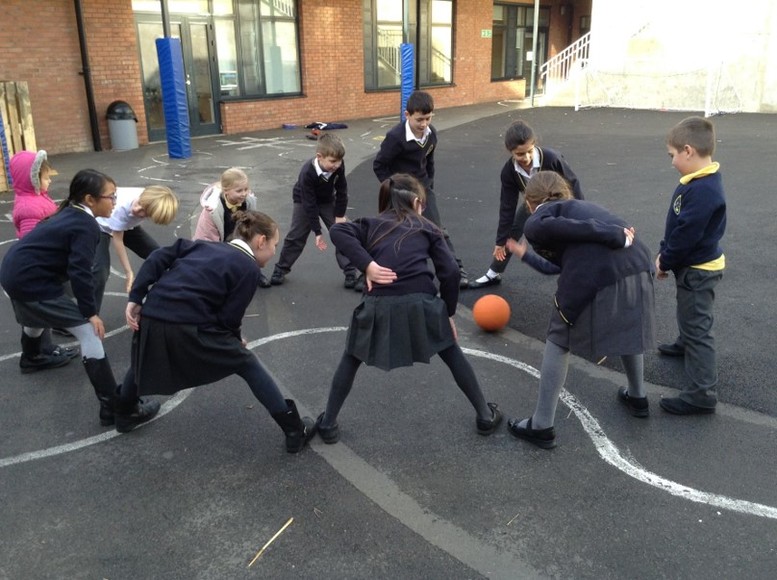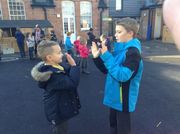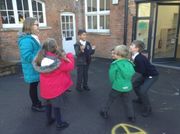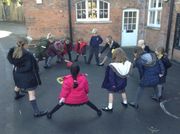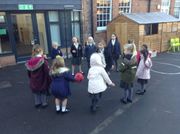 Mindfulness
Mindfulness
At Harpenden Academy we teach the children and teachers mindfulness techniques to provide them with tools to support their mental and emotional wellbeing. We often have mindfulness breaks during the day to pause, relax and clear our busy minds. Sometimes we do our mindfulness outdoors looking up at the sky and listening to the sounds around us. At other times we go into the sensory room and use the calming equipment in there to help us enjoy being in the present moment. Year Six shared their mindfulness learning with the whole school in an assembly - explaining all about the different aspects of mindfulness they use, from mindful eating to mindful listening and mindful breathing. They also talked about how mindfulness helps them outside school - for example getting back to sleep if they wake in the night or steadying their nerves before a swimming gala.
Small Acts of Kindness Project
In January 2017 the school council (inspired by the Queen's Christmas speech) wanted to set up a Small Acts of Kindness project in which each class created their own small act of kindness to carry out in our local community. Activities ranged from baking cookies for our local fire station to singing at a local old people's home to organising a whole school fun run to raise money for refugees. Everyone felt really proud to have made a positive difference to other people's lives, near and far.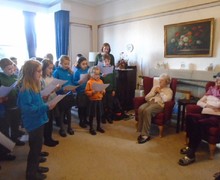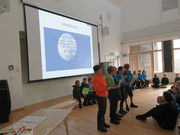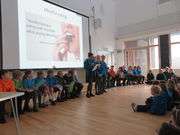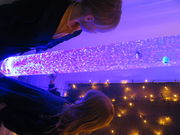 Mini-Police Project
During the Spring Term 2018, our Year Five pupils were took part in Hertfordshire's Mini Police project - the first school to be chosen to pilot the project. It was an amazing experience with the children learning a huge amount about what being a police officer involves - from police dog handling to riot training to how to tackle anti-social behaviour. The children shared their learning with the rest of the school in a Mini Police assembly as well as being invited to an awards ceremony at the Hertfordshire Police Headquarters. What wonderful role models these children are to the rest of our school and community.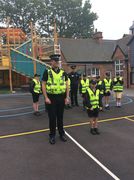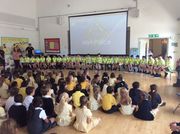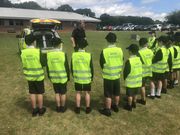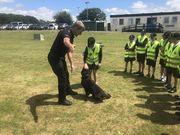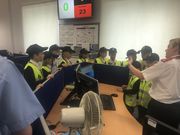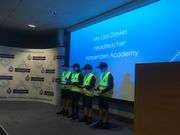 People Who Help Us
In the Spring term 2018 our Reception children were learning about People Who Help Us. Each week a different person came to visit the children, talk about their job and answer the children's questions: mountain rescue dog handler, physiotherapist, nurse, police dog handler, postman and paramedic. Each visit was inspiring and informative, not to mention lots of fun!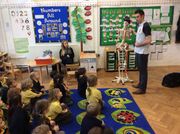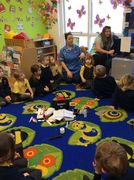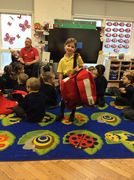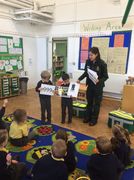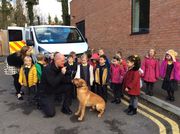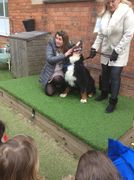 Remembrance Day, November 2017
Thank you to our Elliot and Emily from SJL who played the last post on the cornet. The lovely Vicar Dennis Stamp for his Remembrance speech and to Barnaby's Grandad, Mike, for sharing his thoughts and memories with us. Year 5 did a moving recital of the poem ' In Flanders Fields.' It was a lovely shining example of school, parents and the local community coming together.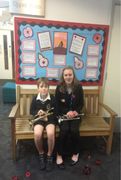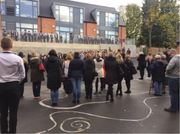 Icing biscuits for Poppy Day with our ABM Caterers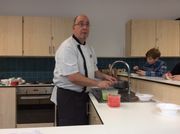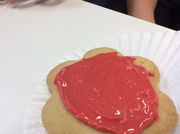 School Rules
During family groups on Wednesday Sapphire group came up with three school rules: be respectful, be happy, be kind. The children then acted out scenarios showing these three rules in action. Can you guess which rule is being acted out in each photo?